Welcome!
We producing ultra high performance wheels and tires for agricultural machines, with quality in our focus.
At the moment in our production program we have over 100 different tire profiles in different dimensions, and that number is constantly growing, because of our constant development of new models. We developing the rubber compounds in cooperation with leading German institute, and we produce compounds in our own mixing workshop. In favour of our experience speaks the fact that at the moment we have over 2000 developed formulations for various aplications.
Depending on the conditions of exploitation we offer suitable steel or plastic rims, with spokes or closed. You can choose among several patented designs that we offer.
If you wish to develop a new model exclusively for you, feel free to contact us. Our constructors will help you in the process of development or develop a new model according to your requests. We are able to offer you short timeframes for first sample production, after defining the design, because we make all our tools in our workshop.
Leave the quality care to us. We have a long experience in production of semi-pneumatic wheels, size up to 1.000 mm diameter, and in series up to 100.000 wheels per model.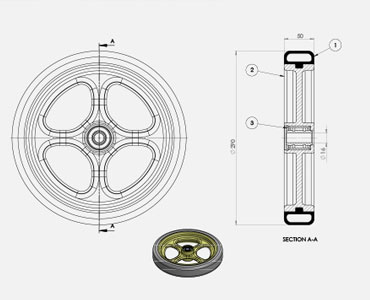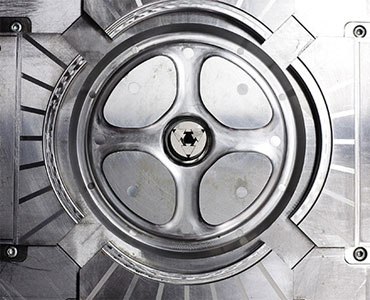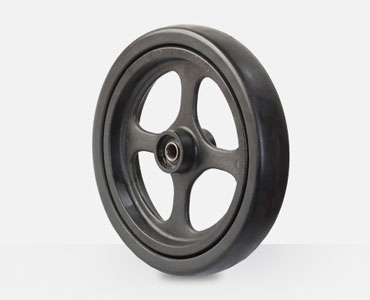 Our products
Take a look at our wheels range. All the models are adjustable to your needs, at request. We are available for any of your questions 365 days a year.

Not only that we can follow the everyday needs of our customers, but we can offer our customers a possibility of develompent of new products in a very short timeframe and at realistic prices. We have our own modern workshop and a very experienced and professional staff. Our mechanical engineers, handling our workshop, are ready to work with you on development of new products, to give you guidlines for desing, techincal solutions and similar.
In the process of development of new wheels we place special attention to analyses. We do statistical computer examination of wheels, with different workloads, in order to replicate real situations as best as possible, so we can prevent weak points. When the first samples are made, we run quick tests on a specialy designed equipment, in order to simulate the use in real conditions and workloads.
You can be sure that all the informations exchanged in our converstions are protected, so if you wish to patent protect your products in development, you will find no obstacles to do that.
What else do we offer
We are capable of making, upon your sample and request, in a very short timeframe, the same or altered product.
Mapping of samples
We measure the samples with extremely precise modern measuring equipment, with precision up to 0.001mm.
Making models
We have modern software tools for 3D modeling. After mapping of samples we send 2D and 3D model for check and verification.
Making tools
After model and drawing verification we start making tools in our toolroom.
Finished product
We make wheels and plastic rims in our own toolroom. After final assembly, the wheel is tested in several different ways, to ensure final quality.
Inovation and develompent
Our development team carefuly observes the market and prepares new products in accordance with current needs of machine manufactureres.
In our current focus of development are rubber rollers, aimed to make adequate furrows in land.
In the middle of 2014 we started with develompent of rubber rolers, and up until now large part of our prototypes has been tested by our partner farmers in the field.
We also did softer simulations of end use, while tests were done on the specialy designed equimpent for simulation of actual operational conditions.